How To Talk About Mental Health In The Workplace
15 May, 2023
5 mins
Understanding how to talk about mental health in the workplace is an important skill we shou...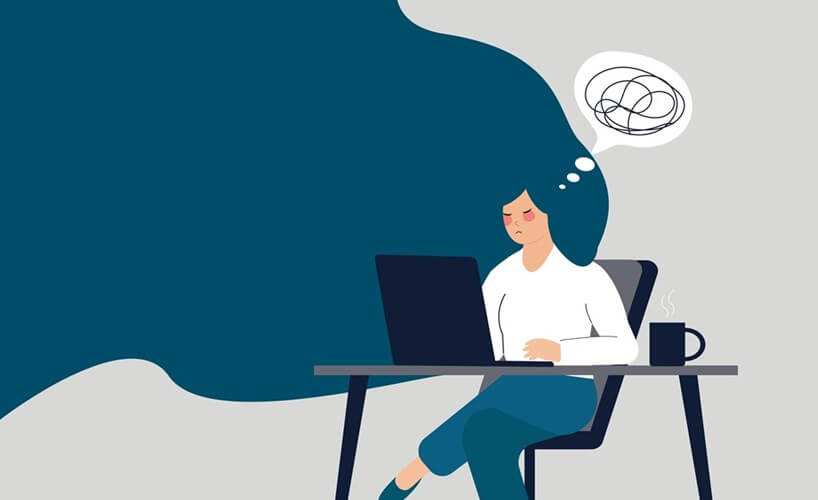 Understanding how to talk about mental health in the workplace is an important skill we should all master. But it's not as easy as it sounds.
There's still a stigma in many workplaces around mental health, which makes the process of opening up about it to employers and colleagues daunting.

Many business leaders and human resource professionals are making mental health and workplace well-being a top priority. Despite this, many employees still do not feel comfortable discussing any mental health issues they are currently experiencing with their management. This is usually due to apprehension about jeopardizing their professional reputation or causing future problems.
With one in six people experiencing a common mental health problem in any given week, creating an open and supportive work culture has never been more important. Starting a conversation on mental health may seem daunting, but it doesn't have to be difficult.
It has therefore never been more important to prioritize the mental health of our workforce. With that in mind, here are some helpful tips on how to improve mental health in the workplace.
Create an Environment of Openness
The first step in promoting mental health is to foster an atmosphere of open communication. None of the following suggestions will be successful if people suffer in silence or are scared to express their concerns.
That being said, talking about your own mental health at work is a big step, and getting started can be difficult. It takes bravery to stand up and discuss such a private matter. It is critical to foster a culture in which mental health can be openly discussed and managed.
An easy method to communicate this with your staff is to emphasize the importance of mental health and urge them to be honest about it. The purpose here is not to persuade people to reveal their illnesses or to make them feel uncomfortable. Rather, the idea is to foster a welcoming environment in which people can share (on their own terms) when going through a difficult moment.
The following actions help create an open and safe environment:
Be open about your personal difficulties. If you've ever experienced excessive stress, overwhelm, or burnout, be honest about it. This normalizes discussion about mental health and the problems we all face, and it allows others to participate.
Actively communicate to people that they are supported. Make it a point to emphasize how open employees may be with you.
Finally, recognizing that an employee is struggling is the first step towards assisting them. And having a safe and inclusive atmosphere is critical to supporting and protecting employees' mental health.
Regular Check-Ups With Your Team
You should be friendly and available, and you should encourage team members to talk to you if they are experiencing difficulties. Your management approach should be tailored to the demands of each individual. For example, if someone works from home, you could ask them whether they prefer to communicate by phone, video meetings, or email.
Meetings and one-on-ones are excellent venues for openly discussing mental health issues. You may use this opportunity to find out how your employees are feeling and if they have any worries. If they have an issue, encourage them to seek assistance or share any helpful initiatives you may have. You should check:
How they're feeling
How their work is going and if they need support
If they have the right setup when working from home
Be Aware
It may appear tough to approach and communicate with an employee who has a mental health problem. If you feel an employee has poor mental health, you should schedule a conversation as soon as feasible as an employer. This should be the point at which they feel at ease and ready to speak with you. You must:
Make sure you talk to them in private
Be flexible about when and where
Approach the conversation in a positive and supportive way
Know Your Resources Available
You should know what resources and support you can offer and signpost them clearly. If your company has any internal resources, it's a good idea to share them with your employees. There is also a lot of mental health help available online. So, if you notice an employee is anxious, worried, or depressed, encourage them to seek assistance. For example:
An employee assistance program (EAP) offering staff counseling
'Drop-in' sessions with someone from Human Resources
A third party to talk through any issues
Employee assistance programs, or EAPs, are employee benefits programs designed to help employees resolve issues that could impact their life. The idea is to address personal issues before they interfere with work performance.
While EAPs are beneficial, and companies that provide them see a significant reduction in absenteeism and workplace stress, they are woefully underutilized. According to multiple research, EAP utilization is less than 10%. It may be challenging for someone to discuss their mental health. As a result, it's critical that you remain calm, patient, sympathetic, and reassuring.
Have Honest Conversations
Make it a point to have regular and normalized conversations about mental health. Talking about mental health more openly can help to break the stigma. Ask straightforward, non-judgmental questions and allow your team to express themselves in their own words about how they feel and what assistance they require. It can be difficult for anyone to open up about their mental health, so be friendly and let your colleagues know you're here to help.
If someone approaches you to discuss their mental health, you should thank them for opening up to you. Give them as much time as they need to talk about their mental health.
During the conversation, you should:
Listen carefully to what they say
Try to identify what the cause is, for example by keeping questions open ended
Think about ways to help, for example, if there's any support they can get at work
Reassure them – let them know you'll help them get the support they need
If either of you needs to think about what's been discussed before any decisions are made, you should agree to have some time to think things through.
Be Patient
Some people may take longer than others to open up about their mental health, if at all. Remember that everyone has varying levels of comfort and preferences, especially when it comes to discussing something as intimate as mental health. Don't let this deter you from letting them know you're willing to listen if they want to talk about it.
Being Clear about Confidentiality
It can be challenging to open up about any health concerns, especially mental health concerns. Assuring your employees that any information they provide will be kept confidential may aid in breaking down barriers. It's sensitive information that should only be disclosed to a small group of people.
You should reassure the person that you will not disclose anything they tell you to anybody else unless there is a compelling cause to do so. If there is, you should be explicit about who and why you will share information.
Getting Support for Yourself
You might find that you need advice and support for your own mental health. For example, you might be under more pressure than usual to support your team and resolve problems.
It might help to talk things through with someone who can support you, for example:
Your own manager
Someone else at work
A mental health 'champion' or network at work
A counselor, if you can access one through work
If your organization offers to counsel, it'll usually be through a scheme known as an employee assistance program (EAP).
If you need to seek help or advice regarding mental health or if you or someone you know is struggling or in crisis, help is available. Call or text 988 or chat 988lifeline.org. You can also reach Crisis Text Line by texting MHA to 741741. You can also call 1-800-985-5990 or text "TalkWithUs" to 66746 at the SAMHSA Disaster Distress Helpline. Trained crisis workers will listen to you and direct you to the resources you need.