How Can A Company Support Its Employees' Mental Health
01 May, 2023
5 mins
Currently, one out of every six workers is dealing with a mental health issue such as anxiet...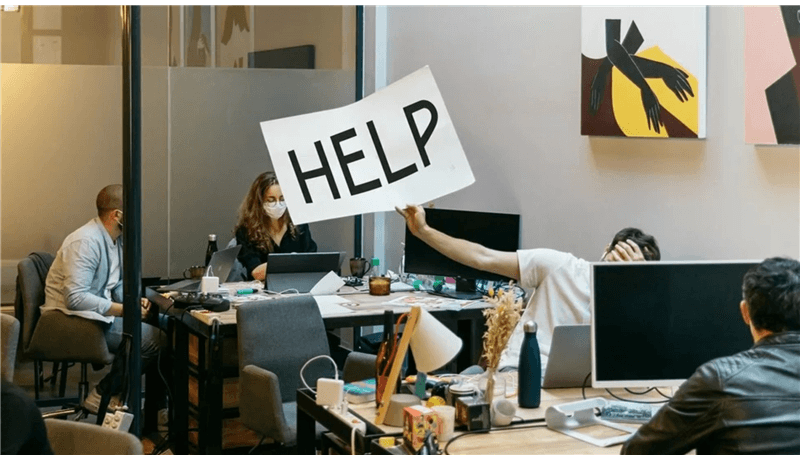 Currently, one out of every six workers is dealing with a mental health issue such as anxiety, depression, or stress. This can prevent people from giving their best effort. When employees are healthy, motivated, and focused, organizations perform better.
Smart companies help employees who are dealing with mental health issues cope and recover. Employer assistance is critical in deciding how effectively and fast people are able to return to peak performance.
Standing by employees who are experiencing a mental health condition allows you to retain a great employee while also delivering a message about your organization's values. All employees must see that their company lives its values and treats its employees well. Trust and integrity are crucial drivers of engagement, and firms that support their employees reap the advantages in terms of employee loyalty and commitment.
The World Health Organization (WHO) estimates that depression and anxiety cost the global economy $1 trillion per year in lost productivity. But WHO also found that for every $1 spent on treating common mental health concerns, there is a return of $4 in improved health and productivity.
Employees are less prone to develop problems if they believe they can discuss openly their mental health. This could result in:
Less time off for poor mental health
Increased workplace morale
Employees are typically too afraid to notify their boss about a mental health problem, which causes problems to escalate. According to a recent survey, one in every five employees felt they couldn't tell their supervisor if they were extremely stressed at work, and less than half of those diagnosed with a mental health problem had told their boss.
Companies must provide a clear message to employees that their mental health is important and that being upfront about it will result in assistance, not prejudice. One straightforward method to convey this is to state that mental health will be managed in the same manner as physical health.
Why is corporate culture so important?
Cultural development may not appear to be a priority at a time when many businesses are struggling, but we believe the contrary is true.
In terms of the epidemic, managing and assisting employees who were hesitant to return to work required careful planning. Employees needed to understand what actions their companies had done to assure their safety and that their well-being was (and continues to be) a top concern. Trusting an employer to do the right thing and handle concerns responsibly is essential for creating trust and minimizing present fears that may be contributing to poor mental health.
Creating a Supportive Environment
The first step in creating a workplace that supports employees' mental health is to raise awareness and de-stigmatize mental illness or sickness. As an employer, you must prioritize both mental and physical wellness.
You should establish an environment in which your staff feels comfortable discussing mental health freely. Provide resources to help employees understand more about mental health or illnesses, as well as information on how employees who are experiencing difficulties can seek help. When you openly discuss mental health, employees are more likely to feel comfortable with the concept and reach out to managers or coworkers if they are experiencing difficulties.
For example, you should:
Organizing workshops, mental health training programs, or lunch-and-learn sessions to educate employees on mental health issues, their signs and symptoms, and how to seek help could all effectively remove that stigma.
Make sure employees have regular meetings with their managers, to talk about any problems they're having
You can also establish a workplace environment that is supportive of mental health by:
Encouraging social support among employees, such as an organized support group that meets regularly
Setting up an anonymous portal through which employees can reach out to let HR or managers know that they're struggling with high stress and need help
Providing training on problem-solving, effective communication, and conflict resolution
Promoting your employee assistance program (EAP), if you offer one
Develop Employee Mental Health Resources
Consider providing employee assistance programs (EAPs) and other measures to improve employee well-being. These tools can offer guided meditation and therapy to employees in order to help them manage stress, anxiety, or depression through coaching, exercises, and information.
You may also provide mental health experts with counseling services, as well as training and support groups focusing on mindfulness and self-care. Giving your staff the tools they need to manage their emotional well-being can help them succeed both inside and outside of the workplace.

Offer-Flexible Scheduling
Work-life balance, or its absence, can have an impact on an employee's mental health. Work-life balance is an important part of a good workplace, and businesses should provide flexible work alternatives. Maintaining a work-life balance reduces stress and helps to prevent job burnout.
Employers around the country are embracing workplace flexibility to help employees better balance their professional and personal lives. Workplace flexibility can include flextime, telecommuting, and unlimited paid time off (PTO) policies, albeit this varies by organization. Employees benefit from flexible schedules in terms of job satisfaction, improved health, higher work-life balance, and less stress.
Address Workplace Stress
Almost 80% of Americans say their jobs are stressful. Employee weariness, irritation, and health problems can all be exacerbated by chronic working stress. Furthermore, workplace stress costs US employers $300 billion in lost productivity each year.
While it may not be possible to completely eliminate job stress for your employees, you can teach them how to manage it effectively. A tremendous workload, intense pressure to perform at high levels, job insecurity, long work hours, excessive travel, office politics, and disagreements with coworkers are all common job stressors.
Various activities can be implemented to help reduce employee stress, which can improve health, morale, and productivity.
Make sure that workloads are appropriate.
Have managers meet regularly with employees to facilitate communication.
Address negative and illegal actions in the workplace immediately—do not tolerate bullying, discrimination, or any other similar behaviors.
Recognize and celebrate employees' successes. This contributes to morale and decreases stress levels.
Evaluate Your Benefits Offering
Examine the advantages you provide to ensure that they also help mental health. Examine your present healthcare plans. Do they provide coverage for mental health services? Examining your organization's offerings is critical to fostering a culture that promotes employee mental wellness.
In a similar way, consider what volunteer benefits you might provide to promote mental health. To support your staff, consider providing simple incentives such as financial planning guidance (since financial stress often contributes to poor mental health), employee discount programs (where employees can access gym memberships, stress-relieving massages, or acupuncture at a reduced cost), and EAPs.
Accept and Apply Constructive Employee Feedback
Once your mental health program has been implemented, it is critical to collect feedback in order to assess its effectiveness. Surveys, focus groups, or one-on-one talks can be used to get feedback on the program's ability to address the mental health needs of your staff.
Paying close attention to your team's recommendations and concerns will help you improve the program to better meet their needs. This also encourages a sense of investment and involvement. When your team members believe that their voices are being heard and that their thoughts are valued, they are more likely to feel connected to and dedicated to the organization's mission and mental wellness programs.
Provide Mental Health Training For Managers
One of the major barriers to mental health care at work is the stigma associated with mental health. Despite recent societal efforts to de-stigmatize mental health, problems persist. To guarantee that there is no stigma associated with mental health in your organization, it is critical that management is appropriately trained in recognizing indicators of mental illness, excessive workplace stress, workplace bullying, and exhaustion.
Managers should also be prepared to address potentially tough conversations with staff about their mental health. Finally, rather than avoiding the subject, they should be prepared to speak honestly about mental health.
To Conclude
Staff should feel more confident talking to management about their mental health if they take proactive initiatives to build a more open and friendly culture. However, keep in mind that culture change does not happen overnight and that the individual relationships between managers and employees are critical to getting this right.
When individuals can get care early, they are more likely to avoid developing a more serious problem. As a result, it is critical that companies have clear, well-publicized channels in place for employees to voice issues and that effective action is taken swiftly when employees seek assistance.
If you need to seek help or advice regarding mental health or if you or someone you know is struggling or in crisis, help is available. Call or text 988 or chat 988lifeline.org. You can also reach Crisis Text Line by texting MHA to 741741. You can also call 1-800-985-5990 or text "TalkWithUs" to 66746 at the SAMHSA Disaster Distress Helpline. Trained crisis workers will listen to you and direct you to the resources you need.