How to Build a Successful IT Department Structure
29 Aug, 2023
8 minutes
In today's digital age, having a robust IT department is essential for the success of any bu...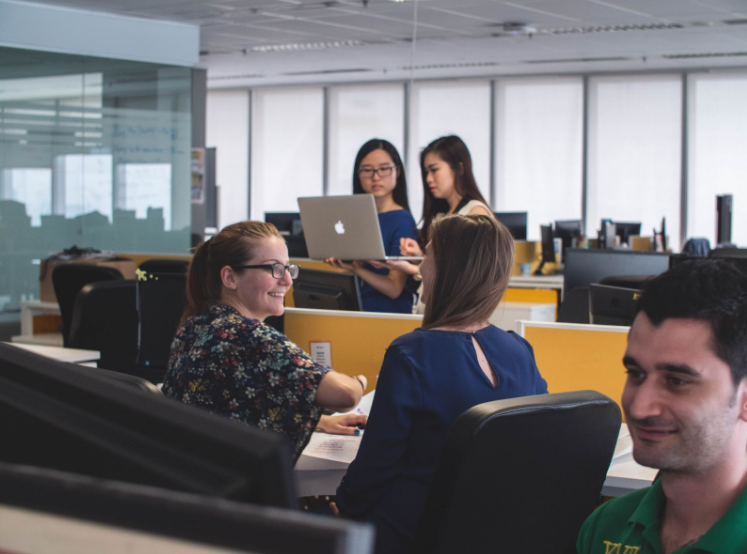 In today's digital age, having a robust IT department is essential for the success of any business. A well-structured IT department can help to improve efficiency, productivity, and security. However, not all IT departments are created equal. Some are poorly organized and inefficient, while others are well-oiled machines that keep the business running smoothly. To ensure your IT team is the latter, you need to know how to structure an IT department, which we can help you with.
In this guide, we'll explore the top IT department roles and responsibilities before giving you 5 steps on how to structure an IT department that will help transform your business.
IT department roles and responsibilities
An IT department is responsible for the day-to-day management of IT systems and infrastructure, helping to ensure various software, hardware, and networks are working efficiently around the clock. The roles and responsibilities of this department, also known as an IT ops team or IT support team, can vary depending on the size and complexity of the organization; however, some typical roles consist of the following:
IT Support Specialist
Network Support Engineer
IT Project Manager
Security Analyst
IT Operations Manager
Let's explore some of these roles in more detail as we look at the IT department roles and responsibilities.
IT Support Specialist
Internal IT Support Specialists are responsible for providing technical support to a business's employees who use computers on a daily basis. IT Support Specialists are on hand to investigate and resolve technical issues with hardware and software systems.
Here are some of the typical IT Support Specialist responsibilities:
Diagnose and troubleshoot computer problems
Install and configure hardware and software
Provide training to users on how to use hardware and software
Maintain computer systems and networks, including performing routine maintenance tasks, from implementing security updates and backing up data
Document technical problems and solutions to help track issues and solutions so that they can be easily referenced in the future
Network Support Engineer
Network Support Engineers are responsible for designing, installing, and maintaining an organization's computer networks and play a critical role in overseeing the security and reliability of various networks.
Some of the specific Network Support Engineer responsibilities include:
Designing and implementing network infrastructure
Troubleshooting network problems
Maintaining network security and implementing security measures to protect the network from unauthorized access, viruses, and other threats
Monitoring the performance of a network
Providing technical support to employees within a business that utilizes the network
IT Project Manager
IT Project Managers are professionals responsible for planning, executing, and delivering various IT projects. Typically collaborating with a team of stakeholders to define the project scope, manage the project budget, and ensure that the project is completed on time and within budget, an IT Project Manager ultimately oversees each minute aspect of a project.
Below are some of the specific IT Project Manager responsibilities:
Define the project scope and create a project plan with a clear schedule, goals, risk management, and deliverables to ensure the project is completed on time
Manage the project team, from assigning tasks to team members, providing feedback, and resolving conflicts
Communicate with all internal and external stakeholders involved in the project and manage expectations on deadlines
Manage the project budget and track expenses to ensure overspending is avoided
Close the project while ensuring all project deliverables are completed, releasing project resources, and documenting the project lessons learned
Security Analyst
Security Analyst is responsible for protecting an organization's software systems, computer networks, and data from unauthorized access, theft, and reputational damage. They do this by monitoring and analyzing security logs, investigating security incidents, and implementing security controls like firewalls.
Take a look at some of the specific duties of a Security Analyst:
Monitor and analyze security logs and identify suspicious activity, including unauthorized access attempts or malware infections
Investigate security incidents such as data breaches by collecting evidence, identifying the source of the attack, and recommending remediation steps
Implement security controls, including firewalls, intrusion detection systems, and access control lists, to protect the organization's computer networks, systems, and data from cyber-attacks
Develop and maintain security policies and procedures to ensure the business and its employees are protected from potential cyber threats and operate under the latest compliance and regulation standards
Educate the business on security best practices, from creating strong passwords and avoiding clicking on malicious links that could expose the employee or company to harmful cyber-attacks
IT Operations Manager
IT Operations Managers, or IT Ops managers, are responsible for the day-to-day operations of an organization's IT infrastructure. They oversee the IT team, ensure the business's IT systems run smoothly, and implement new technologies and processes to improve efficiencies within a company's IT systems.
Here are some of the specific responsibilities of an IT Operations Manager:
Manage the IT team, from hiring and looking after IT staff to implementing training and development programs and ensuring that the team meets the organization's IT needs.
Monitoring an organization's IT systems and troubleshooting problems, and implementing preventive maintenance procedures to ensure the IT systems are running smoothly 24/7
Researching new technologies and processes, evaluating their suitability for the organization, and implementing them to minimize disruption to the IT infrastructure.
Manage the IT budget, track IT expenses, and make necessary adjustments to the budget to ensure it's used effectively to benefit the business and its employees
Communicate with internal and external stakeholders and keep them informed of the status of any issues or updates and manage expectations
These are some of the key IT department roles and responsibilities that your business could invest in. But how do you structure an IT department? In our next section, we'll answer this question by exploring 5 steps on how to structure an IT department.
5 steps on how to structure an IT department
There are several ways you can build your in-house IT department. From establishing the size of the IT support team you need, determining the talent you require, and more, we've condensed these ways into 5 steps for building an IT department structure.
1. Establish the size of the IT department
The first step to building an IT department should be establishing the size of the team you need. Here you should consider what you want your IT support team to achieve. For example, if you want them to provide 24/7 support or you want them to solely support your employees, be able to handle a specific volume of clients and customers, or a combination of both.
Depending on the size of your business, you should also factor in your budget and which roles you can afford to hire. If you're a start-up or medium-sized organization, employing mid- to senior-level talent you can build an IT team around makes more sense. Whereas if you're a global business, you may have the funds to hire executive-level talent who can also support junior hires to grow their careers from the ground up.
2. Determine your IT department roles and responsibilities
Once you know your goals and the size of the team you need, the next step to building an IT department involves determining your IT department's roles and structure. For example, if your organization wants to focus on better cyber security to protect your sensitive data and finances, you may want to hire a Security Analyst.
Alternatively, you may want to improve your customer service offering, so hiring an IT Support Specialist to support your clients' technical issues and updates may be a suitable investment for your business.
Ultimately, you should take time to consider the skills and expertise your business needs to enhance its IT infrastructure to determine which roles are a priority. Of course, choosing who you can hire will come down to your budget, and you may have the funds only to make one hire - but that one hire could lead to growth where you eventually get to the luxury of making multiple hires.
When determining which IT support jobs to invest in, make sure to refer back to our previous section regarding IT department roles and responsibilities.
3. Create training and development opportunities
Building an IT department will take time and should always be something you continue to build upon. Whether you invest in one or several hires, a critical step you should take is to create training and development opportunities for your IT ops teams.
The training you provide to your new hires could be embedded in your onboarding process and involve educating your IT support team on your business, its policies and procedures, and the products and services they will support.
You could focus on training programs revolving around developing technical skills and the tools used to optimize your company's technologies and IT infrastructure. Additionally, you could train your staff on soft skills, including communication and problem-solving, to help them grow to their professional and personal potential. In time, your IT department will be able to offer training to your broader business and the entry-level employees you acquire.
Moreover, investing in training schemes will increase staff retention and attraction, as the personal and professional development support you provide will motivate your IT ops talent to stay loyal to your brand and invest more of their time into building the IT support team and your business as a whole.
4. Work with your IT department to create processes and procedures
When building an IT department, it's important to establish processes and procedures for your support specialists to follow. From determining how issues are troubleshot, who communicates to which department, how work is distributed, and what tools are used within the business.
As you build your IT department structure, make sure to encourage your staff to collaborate with your broader business to refine and optimize your processes and procedures. Your IT ops talent's expertise may open your eyes to better and more efficient ways of working, from new automation tools and software - as we mentioned in our blog, why your business should invest in an IT operations team.
5. Recruit your IT department team members
Once you've established the size of the team you want to bring in-house, the people you want to hire, and the skills and experience you require, our final step to building an IT department involves recruiting the IT talent you need.
When recruiting for your IT operations and support team members, make sure to write compelling job descriptions emphasizing the benefits of working for your organization while highlighting the requirements of the IT role or positions you're looking to acquire. Then be sure to screen the top candidates, interview them thoroughly, and give them a real-life scenario to solve to prove they are the right cultural and technical fit for your business.
As you build your IT department structure, your new recruits can start supporting you with the various steps of your talent acquisition strategy, helping you determine the areas where you should make future hires.
Recruiting the people you need for your IT operations team is arguably the most significant step to building an IT department. Once you get started and invest in your IT team, it won't be long before you begin to see exceptional growth.
The Final Word
As well as considering the IT department roles and responsibilities and the steps to building out your in-house IT team, always ensure you're constantly evaluating your IT operations and looking for ways to futureproof your organization. By following our guidance in this guide, you'll be well-positioned to build a thriving IT department structure you can rely upon for years to come in this ever-evolving digital and technology landscape.
Specialists in IT operations and support recruitment
At Franklin Fitch, we deeply understand how IT operations and support are essential to our client's IT infrastructure. Our expert consultants will work closely with your organization to determine your recruitment needs when it comes to hiring individual IT professionals of all levels or acquiring a whole IT team. We'll help match you to the talent you need to establish a productive IT department that can drive success for your business.
Find out more about our IT operations and support recruitment solutions or contact us today to discuss your specific needs.